*UPDATE* LT will play tonight against the Indianapolis Colts. LT had been receiving extensive treatment to his groin in order to get him ready for the game. (I think we could all use the occassional groin treatment.) He told
ESPN.com's Ed Werder
, that while it is painful, he feels like he can cut and change directions enough to be effective in tonight's match up.
ESPN.com is reporting
that Chargers' running back
LaDainian
Tomlinson
has a detached tendon that connects one of his groin muscles to his pubic bone.
Tomlinson
has been listed as a game-time decision and more is expected to be known after pregame warm ups. This sounds like he type of injury that would put me on Life IR, so credit
LT's
heart for trying to give it a go. Can't imagine what it must be like to have the pubic bone no longer attached to my groin.
This is the second year in a row that the injury bug has reared its ugly head in
LT's
direction before a big playoff game. One has to question, with the success of back up Darren
Sproles
and
LT's
recent regression as a RB if perhaps his future next season might be with another team or at least in more of a time share situation.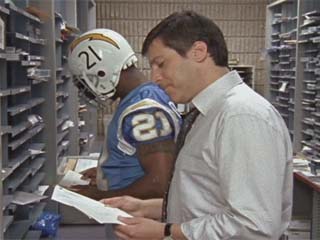 Insert ESPN mail room joke here---->
Sproles
, against an admittedly
porous
Denver defense last week had 115 yards on the ground on only 14 attempts and a rushing TD. It went well with his 2 catches for 17 yards and
receiving
touchdown.
FANTASY IMPACT
This only ads to what has already been a disappointing fantasy season for the once great LT. It is said that the injury will make it difficult for LT to cut and make sudden movements. If he does play, he could used in short yard situations, and get goal line carries, however, expect Darren
Sproles
to get the majority of the carries. If you are in a playoff fantasy football league, you should have drafted
Sproles
to go along with the now oft- nicked up LT.
Sproles
is an explosive, speed back who can make game changing runs with any carry.